CBSC, CMA, CySEC, FCA, FSA, FSC Belize, FSC Mauritius, FSCA
250+ financial instruments, over 50 currency pairs, CFDs on Cryptocurrencies, Spot metal, Shares, Commodities and Indices.
MetaTrader 4, MetaTrader 5, Proprietary platform
Credit cards, Bank wire transfers, E-wallets (Neteller, Skrill, Alfa-Click, WebMoney, Western Union, Dotpay, Yandex money, Qiwi wallet, Bitcoin via Skrill, and counting)
Exness is a regulated online broker founded in 2008. The broker offers access to a wide array of assets with low fees. Exness focuses on CFD and Forex trading, offering over 200 financial products, different account types, and numerous resources. The time-tested MT4 platform offers trading services without hidden commissions and tight spreads. Today, it is accessible to traders from over 130 countries globally. 
Exness works to keep costs low for their clients. As such, clients will not find most of the charges implemented on other online trading platforms. Exness only charges spread and a small commission on select instruments. There is no management fee, and opening an account is free. The broker does not charge a commission on deposits or withdrawals. Additionally, they will pay for the third-party fees imposed by payment providers. The only exception is the crypto network fee, deposits with USDT, and withdrawals made using Perfect Money and Skrill.
Exness has also eliminated the swap fee for most instruments, including stocks, majors, crypto, and gold. For commodities trading, Exness does not charge a commission. The average spread on commodities trading ranges from 4.7 to 454 pips, with a margin ranging from 0.05% to 5%, depending on the specific instrument being traded.
For indices, the average spread ranges from 7.7 to 69.9 pips, with a margin ranging from 0.25% to 0.5%, with no commission charged on all Indices trades. Forex trading attracts an average spread of 1 to 2.4 pips, with a margin of 0.05% for all majors. Additionally, there is no commission charged on all supported majors forex pairs. When trading the stock market on Exness, the average spread ranges from 0.3 to 15.8 pips, with a margin set at 5% for all supported instruments. A commission is charged for crypto trading, which varies by individual crypto coin. The commission for crypto trades ranges from $0.25 to $3.5.  
Regulation and Fund security
Several leading financial regulators around the world regulate Exness. These regulators impose tough conditions on the safety of customer funds. As such, customers are assured that they are operating on a secure trading platform.
Exness has licenses from Seychelles' FSA, CBCS of Curacao, FSC of Mauritius, FSCA of South Africa, CySEC of Cyprus, the UK FCA, the CMA of Kenya, and the FSC of the British Virgin Islands. All of these are renowned regulators. Exness has to maintain the highest levels of professionalism to retain a license from them.
Exness supports two broad categories of account types. These are the Standard accounts and Professional accounts. Standard accounts offer access to feature-rich, commission-free trading. The standard accounts come as the Standard and Standard Cent account. A Standard Cent account is designed to cater to the needs of newbies. It allows them to trade in micro lots as they familiarize themselves with Exness.
On Standard Cents, traders can trade in forex and metals. The Standard account offers more options: forex, metals, cryptocurrencies, energies, stocks, and indices. Both standard accounts offer a spread starting from 0.3 pips. There is no commission on trades, and maximum leverage is set at 1: Unlimited. The Standard account offers the MT5 platform, while the Standard Cents offers the MT4 platform.
Professional accounts are of three types. These accounts are designed to cater to the needs of experienced traders. They offer low-spread and spread-free trading with execution that caters to scalpers, day traders, and algo traders.
The three Professional accounts offered on Exness are Raw Spread, Zero, and Pro. All of them come with a minimum deposit requirement of $500. The Raw Spread account offers the lowest spread, with a fixed commission per lot. On the Zero account, traders have access to zero spread on the top 30 instruments, with commission starting at $0.2 on each side per lot, with market execution and no requotes. On the Pro account, traders can access low spread and instant execution. They all feature a margin call of 30% and offer access to all instruments supported on the Exness platform.
Investment Products/Trading instruments
Exness supports trading in forex, metals, cryptoсurrencies, energies, stocks, and indices. There are 97 currency pairs and 34 cryptocurrency pairs. For equity traders, there are 98 blue-chip stocks listed, 13 commodities, and 10 indices. For non-forex traders using strategies with fewer lots and highly liquid trading, such as scalpers, there are numerous trading instruments to meet their needs.
Exness utilizes a lightweight, user-friendly trading platform that includes mobile apps for iOS and Android devices called the Exness Terminal, which is complemented by the Exness Trade app. It provides traders with 50 drawing tools and 100 indicators. Both are offered to MT5 accounts and only support manual trading. TradingView provides charting.
Exness also supports the MT4 and MT5 trading platforms, which are great for algorithmic trading. They are feature-filled and offer traders access to over 25,000 add-ons, EAs, and custom indicators. Additionally, they offer the MetaTrader WebTerminal, which does not require one to download a desktop app. Finally, Exness supports the MetaTrader mobile app, which is offered on iOS and Android devices. MetaTrader mobile supports MT4 and MT5, and users will have access to useful analytical tools to help them make the best choices. Exness also offers social trading to all its clients. It allows traders to follow the top traders on the platform and copy their trades.
Webinar, seminars, educational material
Trading Central and FXStreet provide external information on Exness. Traders can access trading signals, market coverage, and economic news. The platform supports Trading Central WebTV, where users have access to the latest news from the floor of the NYSC. They upload daily videos that offer market commentary and trading ideas from Trading Central. The Trading Central WebTV platform is in English, Chinese, and Arabic.
The platform also supports a trading calculator, a tool designed to help traders automatically calculate the basics of their trading position. It offers details such as margin, spread cost, commission, swap short, swap long, and pip value. It is especially useful when determining the mentioned values for multiple open positions on different instrument types.
Exness offers customer support in multiple languages. For English, Chinese, Thai, Vietnamese, and Swahili, customer support is offered 24/7 via phone. The platform also offers customer support in Indonesian, Arabic, Hindi, Urdu, Bengali, Japanese, Korean, French, Spanish, Portuguese, and Russian. Besides phone support, there is live chat and email support.
Active Bonus and Promotions
Exness does not offer a bonus to its clients. However, the platform has an active partner and affiliate program. In the program, partners can earn up to 40% of all the revenue from active traders they refer to Exness. There is also a chance to earn a commission of up to $1,850 for every user that becomes active on Exness. The broker also pays for leads. Partners can earn up to $45 for every registration, depending on the country and platform they register. With traffic accepted from over 130 nations, there is a good opportunity to make some money via the program.
Exness is a leading online broker that has become a household name in the trading world. The online broker is renowned for its unique tools, features, and security. Exness today boasts of close to half a million traders. Traders on Exness have access to round-the-clock support, quick trade execution, and tight spread.
Exness offers a variety of platforms to pick from, including the popular MT4 and MT5 platforms. These platforms offer traders of all levels advanced charting tools and a user-friendly UI. Consequently, traders have great insight into the financial markets, which allows them to execute the best trades possible. In this article, you will get a step-by-step guide on creating an account on the Exness online broker.
Required Documents
Exness, being a regulated broker, requires certain documents to verify your identity and address. The documents presented must meet the highest standards possible. Exness requires Proof Of Identity Documents and Proof of Residence documents.
The proof of identity documents can be:
International passport
National identity card
Driver's license
Permanent residence card
The proof of identity document must contain the client's full name, the date of birth, and at least one month of validity remaining. If the document is two-sided, both the back and front of the document must be presented, including all four edges. Additionally, it should be legible and issued by a government agency.
The proof of residence document can be:
Utility bill
Recent bank statement
Local tax bill
Reference letter from your bank
Proof of residence documents must contain the client's full name, and the date of issue, which should be within the last six months. It should show all four corners, and both sides of the document should be uploaded. The document needs to be of high quality and legible. Before starting the registration process on Exness, ensure that you have these documents with you.
Account Types
The first step to opening an Exness account is understanding the supported account types. These are:
Standard Accounts
Professional Accounts
Demo Account
Under standard accounts, you can opt for the Standard or Standard Cent account. The main difference is that the Standard Account works with the MT5 platform while the Standard Cent Account works with the MT4 platform. The Standard Cent Account is designed for absolute beginners. The minimum deposit amount varies depending on the payment system used.
Under Professional Accounts, there are the Raw Spread, Zero, and Pro accounts. The main difference is in commissions, with the Pro account charging zero commission. Each account type requires a minimum deposit of $500.
Opening an Account
Step 1
The first step is to visit the Exness homepage and click 'Register' in the top right corner.
Step 2
On the new page, enter your country of residence. This cannot be changed, which is why it is important to enter the correct information. You must also tick a box confirming you are not a US citizen or resident. Click 'Continue' when you are done.
Step 3
In the next step, you will be taken to the Exness terminal. Click on the highlighted section in the image below, and click on the 'Traders Area' icon to enter your personal area.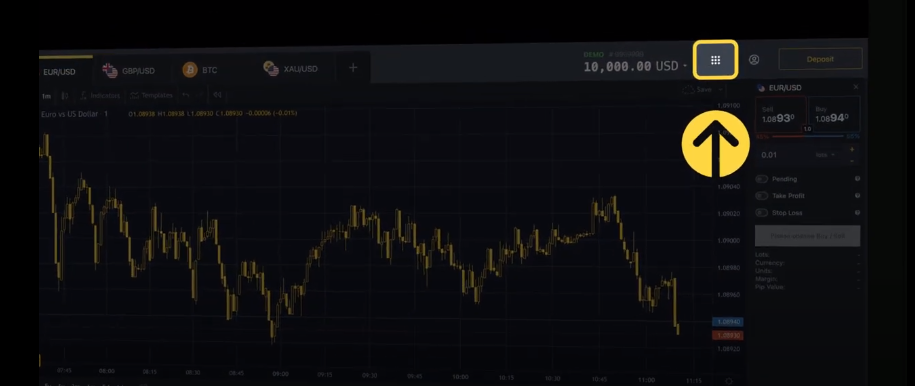 Step 4
In the personal area section, under my accounts area, you will find an MT5 account ready by default under the 'Real' tab. You will also find the demo trading area ready under the 'Demo' tab.
Step 5
To open a new trading account in the 'my accounts' area, click the 'Open New Account' button in the top right corner. You can pick the type of professional account or scroll down to create a new one.
Step 6
You can also pick the max leverage setting and account currency. Please note that the account currency cannot be changed later. It is thus important to get it right the first time. You can also pick a nickname for your new account. When you are done, click 'Create an Account' at the bottom of the page.
Your new account will appear in the 'my accounts' area under the 'Real' or 'Demo' tab, depending on which type you pick.
Step 7
Once you have created an account, verify it before depositing funds. The first step is to visit your account's personal area and click 'Become a Real Trader' on the top right corner of the page.
Step 8
On the new page, click 'Send me a code' to verify your email address. Enter the email code to continue the account verification. Do the same to verify your phone number used during the registration process.
Step 9
In the new step, provide the requested personal information, including your name, gender, date of birth, and address. When you are done, click 'Continue.' You will receive a message showing the information requested has been submitted and verified.
Step 10
In the next step, complete your economic profile. The information is required to ensure you can trade on Exness and understand the risks. Once you are done, click 'Continue.'
Step 11
In the final step, you must provide your proof of identity and residence documents. Please enter your name and ensure it is the same as used during registration. Click 'Upload Documents' and follow the prompts to provide all requested documents. Once you have submitted your account verification documents, Exness will take up to 48 hours to review the information and approve the account. 
Funding Your Account
Exness supports numerous payment methods for depositing funds into the account. However, the online broker will only accept deposits from accounts registered in the client's name. Third-party deposits are not allowed by the broker.
The minimum deposit amount will vary based on the deposit method you pick. Additionally, different methods have different processing times. Exness offers a comprehensive list of supported deposit options by country and type.
Once your account is verified, click on the 'Deposit' tab on the left side of your personal area, and pick a deposit option. Follow the prompts to deposit funds, and begin trading on Exness.
Conclusion
Exness is an award-winning online broker regulated and used by over half a million people. If you are looking for a reliable online trading partner, Exness should be your first choice. The account opening process is straightforward. It is free to open an account, and the numerous tools offer an opportunity to maximize your profits.
FAQs
Do I have to deposit in the same currency as my account currency?
No. However, there will be a conversion fee when you deposit funds in a currency other than your account currency.
Why do I still incur a fee when Exness says deposits are free?
Depending on your payment processor, you may be charged a flat fee per transaction or a fee based on the transaction size.
Is my money safe?
Yes. Exness is a regulated online broker that has won numerous awards for professional customer service.
Exness is a great trading platform with low fees, swap-free trading on select assets, and flexible leverage. They offer various account base currencies, payment processors, and order execution statistics. When it comes to trust, Exness has one of the highest ratings. It is regulated by world-leading regulators, and they also have an investor compensation fund. Consequently, traders are assured of recourse and protection of their funds.
Customer support is top-notch and is offered in multiple languages. Additionally, the platform offers a great partnership program that offers an opportunity to make real money passively. For anyone looking for a trustworthy, reliable, and secure broker, Exness should be at the top of their list. Over the past decade, they have proven themselves with excellent trading tools, great customer support, and an awesome user interface. Additionally, their broad range of supported platforms ensures traders can participate in the financial markets from anywhere at any time.